Sweet and spicy treat
Servings
4 persons,
Preparation time
0 minutes,
Cooking time:
30 minutes
Ingredients
200 g tutti frutti
1 cinnamon stick
peel of 1 orange
200 g couscous
Directions
Place cinnamon stick and orange peel into the flavour booster.
Place steaming tier 2 on top of steaming tier 1.
Hang rice steaming tier above or inside steaming tier 2 and add couscous and 150 ml of warm water. Cover with lid.
Set the timer for 20 minutes and cook the tutti frutti and couscous. Switch off the steamer.
Finely chop the tutti frutti and add to the steamed couscous.
Delicious with grilled lamb chops topped with coarsely chopped pistachio nuts and a fresh cucumber salad.
Total preparation time approximately 30 minutes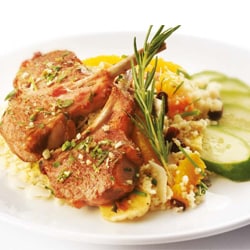 Our site can best be viewed with the latest version of Microsoft Edge, Google Chrome or Firefox.