Tarte Tatin
Servings
2 persons,
Preparation time
15 minutes,
Cooking time:
25 minutes
Ingredients
60 g cold butter, in thin slices
1 egg yolk
100 g flour
1 large, firm apple (Elstar, Jonagold)
30 g sugar
Small, round fixed-base cake pan, 15 cm diameter
Directions
Cut 25 g of the butter slices into pieces and mix them into the flour with the egg yolk. Add a few drops of water, if necessary, and knead the mixture until it forms a smooth ball of dough.
On a floured work surface, roll out the dough to a 15 cm round.
Preheat the airfryer to 200°C.
Peel and core the apple and slice the fruit into 12 wedges.
Place the remaining butter slices in the pan and sprinkle the sugar over them. Place the apple wedges on top of this in a circular pattern.
Cover the apple wedges with the rolled-out dough and press the dough down along the inside edge of the cake pan.
Put the cake pan in the fryer basket and slide the basket into the airfryer. Set the timer to 25 minutes and bake until the tarte tatin is done. Immediately after baking, place a plate on the cake pan and flip the cake pan and the plate together so that the tart drops out onto the plate. Serve the tarte tatin hot or lukewarm in slices with ice cream or vanilla sauce.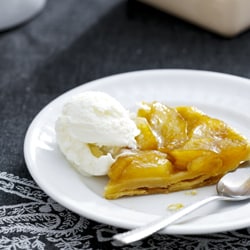 Our site can best be viewed with the latest version of Microsoft Edge, Google Chrome or Firefox.