Starting solids
At around four to six months, your little one may seem less satisfied with their milk and watch you curiously when you eat. These are good signs that your baby is ready to start eating solid foods.
Buying and preparing your baby's first solid foods from fresh ingredients is the best way to keep the nutrients as intact as possible. Making the food yourself also gives you the reassurance of knowing exactly what your baby is eating.
How your ingredients are stored, prepared and cooked will also affect their nutritional content, so we've put together some tips to help you get the best from baby's first foods.
Steam cooking
Steaming is one of the best cooking methods for preserving flavours. A Philips AVENT Combined Steamer and Blender also preserves as many nutrients as possible. It cleverly mixes the juices that are released from the food during the steaming phase, back into the food during the blending phase.
Preparation and storage
Prepare food in a clean kitchen with clean utensils and bowls for best hygiene practice
Wash your hands before food preparation and your baby's hands before feeding
Baby food should be cooked thoroughly until piping hot and allowed to cool before serving
Microwaving heats foods unevenly and can cause hotspots that may scald you and your baby. Make sure any food you warm up this way is mixed thoroughly and left to cool before serving (a Philips AVENT Bottle and Baby Food Warmer will heat your baby's food safely and evenly)
Never re-heat your baby's food more than once
Store food safely and stick to use-by dates
Most freshly cooked foods can be stored in the refrigerator for up to 24 hours
Preparing batches and freezing them in ice cube trays or food containers, such as Philips AVENT VIA Cups, can save you lots of time.
VIA Cups are hygienic, stackable and can easily be written on with the name of the food and the date prepared
Check your freezer's instructions to find out how long you can store baby food safely. It's usually between one and three months
Do not refreeze food after it has been thawed
A few points on ingredients
All fruits and vegetables should be carefully washed before use – some may need peeling
Salt should not be added to foods for babies.
Try using herbs or mild spices as you would in your usual family recipes to make the foods tastier for your baby
Sugar should not be added, unless a very small amount is added to tart fruit to make it palatable
Some foods, such as raw shellfish, liver, soft unpasteurised cheeses and honey, are not suitable for babies under 12 months
Eggs should always be well cooked
Always check with your health visitor if you have any queries about your baby's food preparation
Please be aware that the information given in these articles is only intended as general advice and should in no way be taken as a substitute for professional medical advice. If you or your family or your child is suffering from symptoms or conditions which are severe or persistent or you need specific medical advice, please seek professional medical assistance. Philips AVENT cannot be held responsible for any damages that result from the use of the information provided on this website.
Related products
Related advice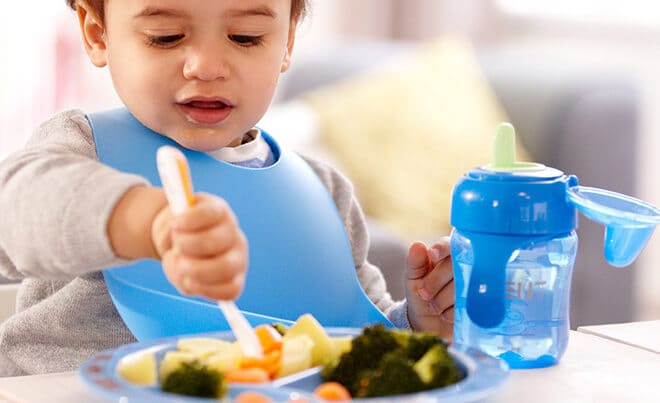 Chunkier food choices for your baby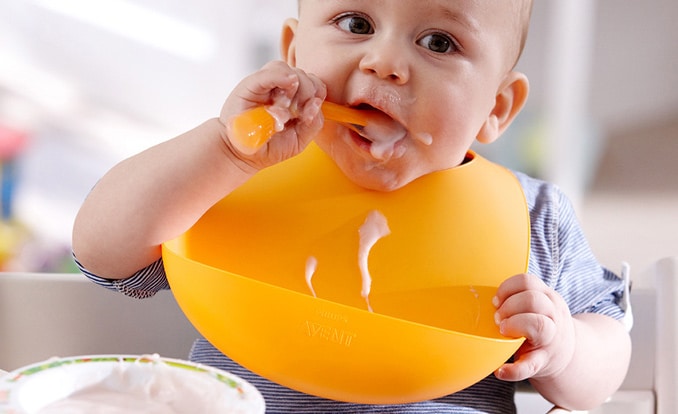 Baby and toddler recipes
Our site can best be viewed with the latest version of Microsoft Edge, Google Chrome or Firefox.