Simple but chic
Servings
4 persons,
Cooking time:
90 minutes
Ingredients
1 kg waxy potatoes, peeled and halved
100 ml milk
125 ml cream
1 clove garlic, crushed
freshly ground black pepper
100 g gruyère, grated
- oven dish, greased
Directions
Pre-heat the oven on 160°C. Place the slicing disk in the food processor. Push the potato pieces through the feeding tube and cut them into thin slices. Place the slices in a colander and rinse with cold water, then pat dry with some paper towel.
Mix the milk, cream, garlic and pepper in a bowl and add some salt. Next mix in the potato slices and give everything a good stir. Put the potato mixture in the oven dish and sprinkle with the cheese.
Bake the dish on the centre shelf of the oven for 75 minutes until golden. Serve immediately.
TIP: You can grate the gruyère in the food processor.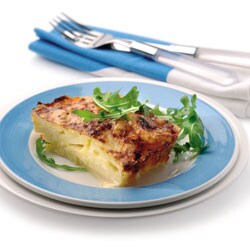 Our site can best be viewed with the latest version of Microsoft Edge, Google Chrome or Firefox.