Servings
4 persons,
Preparation time
35 minutes,
Cooking time:
10 minutes
Ingredients
2 cloves garlic, crushed
2 cm fresh ginger root, grated or 1 teaspoon ginger powder
2 teaspoons chili paste or hot pepper sauce
2-3 tablespoons sweet soy sauce
2 tablespoons vegetable oil
400 g lean pork chops, in cubes of 3 cm
1 shallot, finely chopped
1 teaspoon ground coriander
200 ml coconut milk
100 g unsalted peanuts, ground
Directions
Mix half of the garlic in a dish with the ginger, 1 teaspoon hot pepper sauce, 1 tablespoon soy sauce, and 1 tablespoon oil. Mix the meat with the mixture and leave to marinate for 15 minutes.
Preheat the AirFryer to 200°C.
Put the marinated meat in the basket and slide it into the AirFryer. Set the timer to 12 minutes and roast the meat until brown and done. Turn once while roasting.
In the meantime, make the peanut sauce: heat 1 tablespoon oil in a saucepan and gently sauté the shallot with the remainder of the garlic. Add the coriander and fry for a short time more.
Mix the coconut milk and the peanuts with 1 teaspoon hot pepper sauce and 1 tablespoon soy sauce with the shallot mixture and gently boil for 5 minutes, while stirring. If necessary, add a little bit of water if the sauce gets too thick. Season to taste with soy sauce and hot pepper sauce.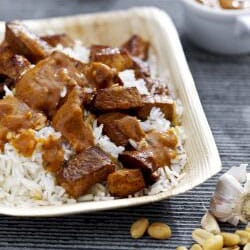 Our site can best be viewed with the latest version of Microsoft Edge, Google Chrome or Firefox.